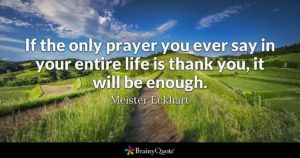 I am grateful for the growing number of people that receive and hopefully read my health and wellness emails.  I hope you are here for many more Thanksgiving celebrations  so we can share even more information. The knowledge base in the area of our health is actually expanding quite rapidly. Our opportunity is to pay attention.
My purpose with these messages is to offer choices. Each choice we make has a consequence.  The same is true for health and wellness. The following is a recap of the  possibly the most important information for our health:
The first three things each of  trillions of   cells need in order of importance …
1. Oxygen
2. Water
3. Nutrition
The 4th thing each cell needs is to  eliminate waste. 
Water and Nutrition 
Water from alcohol, most energy drinks, fruit juices even coffee and black tea does not count and in fact those products are detrimental to our health. As I write this I have a glass of purified mineral water that is alkaline and has the BEMER signal. I also have a large plate of mostly organic vegetables. I do not eat and  drink like this 100% of the time – largely impossible but organic live food with a lot of color is my dominant diet. Pure as possible mineral water with the signal from the revolutionary technology I represent and is alkaline is my dominant drink daily.
Oxygen and Waste Elimination 
The device I represent that is by a company producing this for nearly 20 years now  facilitates our body delivering oxygen, water, nutrition to each of the cells and the elimination of waste. It does this by increasing blood circulation.  No other product or device on the planet does what this device does. Over time even blocked cells start returning to a healthy state.  I have the science behind that statement and the ultimate validation which comes from NASA.  Did you know colorectal cancer is the third most common cancer diagnosed in both men and women in the United States? Our cells are not getting what they need and they are not getting rid of what they don't need.
Until you get your own FDA Class 1 system at least pay attention to what you are eating and drinking.  When you look at the specialty foods this time of year many are loaded with sugar. There is nothing good about industrialized processed foods which comprise 75% of the American diet.  Again choices have consequences.
Sustainable Exercise
Yes even with this device increasing blood flow,  exercise is important for the lungs, muscles, bones and more. Most people find walking 30 minutes or so  4 or 5 times a week sustainable and relaxing. If you do just this along with paying closer attention to consuming healthier food and good water you will see a difference. Add this amazing technology to you life and those you care  about including your pets and you are likely to experience improved sleep, more energy, improved mental acuity, improved skin tone  and much more. This device is not disease specific. It is systemic. However email  me your questions and I am likely able  to point you to  research that will  help you. 
Stress Management
If there is any time of year that will challenge the effectiveness of our stress management program it is this one. I hope you have developed your own steps for managing stress. For me personal development reading, writing in my journal and deep breathing when I am on my system for 8 minutes twice a day are very helpful.  You can focus on your breath any time and that is one of the best things you can do. 
The Above are my major tips. If you follow those does that mean you will never have a health problem. Of course I cannot know that and there are  no medical claims for diagnosis or cure.  However the one claim that is totally supported is what this does for blood circulation. We can see it real time. For a two minute video showing the blood flow change in the capillary system in just 8 minutes visit the main page of healthrewardsnow.com   No other company can show this at the systemic level. 
May you have a wonderful Thanksgiving Day and weekend.
PS For anyone interested in a very friendly program for a source of funds to help you get this technology take a look.   It is not available in every state but if you live in one that is listed this is something you may could be very good for you :
If you are in one of the following states I have arranged for stated income financing to acquire the medical device i represent In fact there is enough room in this program to acquire as second unit that can be rented or gifted.
Qualifications are 640 or above FICO score, US drivers licence and social security card. 18 or older and stated income that supports your ability to pay back the loan. Stated income means no tax returns or bank statements are required. I can review with you several ideas on how this can be paid back quickly. The term is for 5 years and the interest rate is based on your credit score. There is no prepayment penalty.
Message me for more info- do not tell me in the comment section you are interested.
Steve Pohlit
Independent Distributor

Email stevepohlit@gmail.com
Direct 727-224-4743