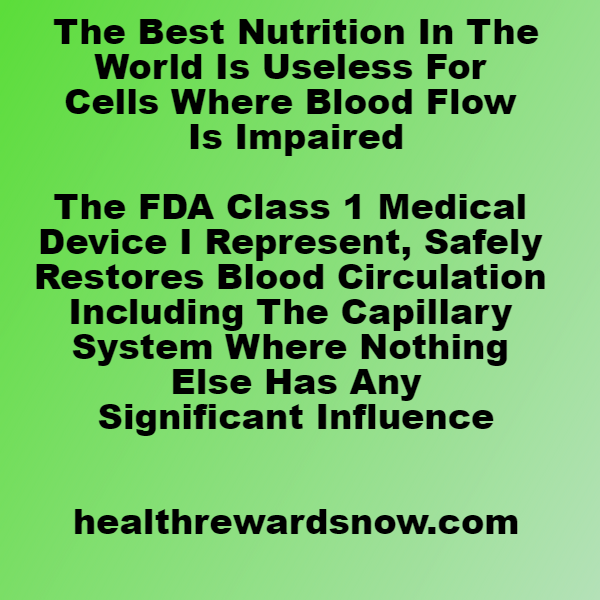 To begin appreciating the significance of this statement, understand that the size of a capillary is 1-7 angstrums . An angstum is 1-1 millionth of a centimeter I understand that it is difficult to appreciate something that small In most of our capillaries that extend 74,000 miles only one blood cell can flow through it at a time.
If a capillary collapses the blood cannot circulate in that area. Once it cannot circulate the blood cells begin to aggregate. Once that happens, the cells cannot get the oxygen, nutrition, water they need and they cannot eliminate waste.
Our bodies can heal themselves when the cells get what they need and are able to eliminate waste. The FDA Class 1 medical device I represent is the only technology in the world that has a significant positive influence on the circulation in the capillary system. Class 1 means safe for all ages except those who have had an organ transplant and are on immuno suppressant medication.
Remember if the circulation is impaired then our cells cannot get what they need no matter how high a quality of food, supplements or water we are using.
Click Here for a more detail
Better: Contact me for complete product details and videos of results people are experiencing.
Contact
Steve Pohlit
Independent Distributor
Email stevepohlit@gmail.com
Text 727-224-4743