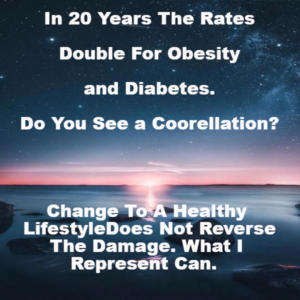 There is a direct link between obesity and diabetes.  That is a medical fact.  As we have seen the rate of diabetes dramatically increase there is a clear correlation. This article gives you the facts and offers solutions.Note thinking a modification in lifestyle to more healthy eating and drinking along with more exercise is not enough because those alone will not help the body reverse the damage already done. There is help. 
In 1994 no states reported obesity rates greater than 19% and only 16 states reported obesity rates of 15-19%. In just 20 years the rate of obesity has about doubled. 
Diabetes Trends 
The data is likely understated simply because of the difficulty in getting true measurements. There are likely other causes of diabetes besides weight because every person considered obese does not have diabetes. However the data show a clear correlation. 
The Most Notable Effects of Diabetes:
Impaired circulation especially in the extremities. In the most serious cases the final option is amputation

Impaired vision

Higher risk of heart attack

Higher risk of auto accidents. (When I first heard that it took me a little while to understand that changes in blood sugar can cause people to become weak and loose mental focus. Then I could see how accidents could be a greater risk.)

Higher likelihood other medications will be required to regulate additional physical conditions. 

Continual dependency on prescription medication. 

Diabetes is considered to be the most costly of all chronic metabolic diseases because of the length of time people are treated for it. 
How Does The FDA Class 1 Medical Device Help People With Diabetes ?
First there are no medical claims being made and you are advised to coordinate any changes you make with  your medical doctor. Do not make any adjustments to your medication protocol without your doctor's approval 
The breakthrough technology has a significant positive influence on the circulation of the blood in the body including the capillary system that is 74% of our circulation system There is no other product, medical device in the world that can compare to what this does for us and that is a measurable fact. As the circulation of the blood improves the body takes over and begins to address what it was designed to do including:
Improved vision

Return to more normal circulation

Much better absorption of nutrients and pharmaceuticals.

Detoxing and anti-aging system of all cells including those at the capillary level 

Increased energy

Improved sleep and mental clarity
Note when combined with a common sense focus on quality food and drink plus a sustainable exercise program, you can expect to experience a continual improvement in your health. Every body  and lifestyle is different so the time required for your body to restore itself to a healthy state varies.  The key is consistently following the instructions.
For detailed information on what this FDA Class 1 Medical Device is, how it works and more Please contact me
Steve Pohlit, Independent Distributor
Email: StevePohlit@gmail.com
Text: 727-224-4743